Okay … just want to take a pulse to see what everyone's opinions are with regard to bait tanks …
Which bait tank do you think is the best out there regardless of price?
What is the best budget bait tank?
What is the most practical size bait tank to have generally speaking? (Pretty sure I already know the answer to that question - biggest tank you can fit that you can afford … LOL)
Do you own a transport tank and if yes, what is the best tank to use for transporting bait from the store to the boat?
I'm asking because I think we're going to have to get another tank … I have a 24 gallon Grayline tank (https://www.graylinebaittanks.com/) which I like very very much … It is an oval shape and very well insulated and fits nicely behind the seat on my Sea Pro …
Likewise, it fits perfectly in the back on my truck as well as Liz's Durango which makes it a great transport tank …
I could go the cheap route and get a Bait Jacuzzi (http://www.baitjacuzzi.com/) and use it for the transport tank or I could upgrade my boat tank to a 30 gallon with a little more user friendly filtration system (Graylines have 2 pumps and the 24 gallon has a fixed filter tray) and bait friendly interior (oval tank but the pump intake tubes run in the tank with the bait and sometimes suck them in against the intake slots) and use the Grayline for transportation …
I'm not really in a rush because I can still drag the boat to get bait, but with the weather warming up it cuts into the fishing time after work … so I'm looking for ideas …
Let me know and there are no bad answers … thanks
… it's my Wife's fault we HAVE to fish !!!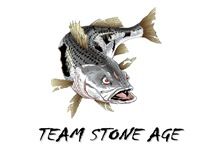 2005 Sea Pro 2100cc / Yamaha 150hp 4-Stroke