Got started a little later than I wanted due to dragging after a night of getting the boat off the blocks and loading everything up to fish. I decided to wait until January, when we cannot keep grouper, snapper or B liners, whatsoever, to start removing bottom paint again!
Got out the jetties and started to realize the new prop was a little fast. As the day went on we started to suspect that it wasn't so much that, but that the motor is mounted too low. The boat did okay, but it porpoised way more than it should have on a day as calm as yesterday. We'll get it all straight eventually I suppose.
Boat and motor ran great otherwise. It was a good first fishing trip.
Started out picking through 15" after 15" red porgy to get some scamp. While working that area, Chris caught a big gag. The fight was awesome, and the fish didn't give up until the last 50ft. I was actually thinking a snapper at first because of how far it was digging straight down even after getting him up off the bottom. This is why I enjoy this kind of fishing so much…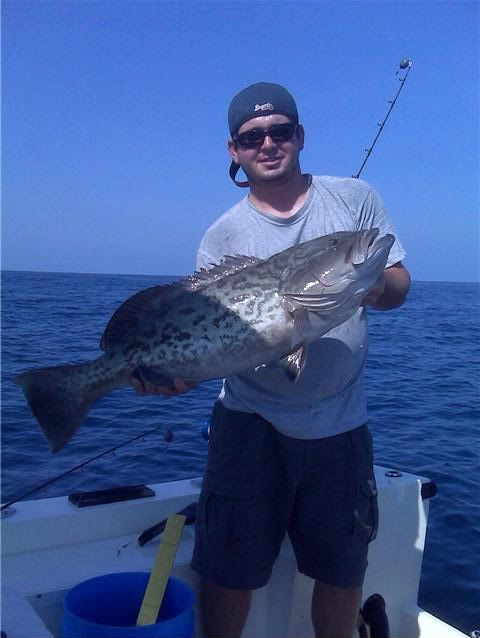 Got a few B liners and c bass mixed in among all that as well.
Moved to another area and did my best to figure out what was going on with the sonar that's currently on the boat. It got frustrating at times, but we managed to get set up on some decent stuff again. Only managed more triggers, pinks and B liners though. Kept a few of the bigger triggers and went through probably 10 pinks per B liner. Most of the fish were legal sized, so we threw back dozens of nice sized fish.
We were pretty much done with grouper anyhow because of the new limits, so I decided to go see if we could scare up a snapper and get a few bigger B liners to finish up that limit. Found a few small spots while running, but they were only holding bait or either small fish. Might be good another time of year.
Got to the last area, and it wasn't 5 minutes after settling in over one spot befo