Left with PurposeOne, Edisto-fisher and one of his buddies around 6:30. Did not fool with livies no matter how many pelicans crashing around the Fort.
Got on the spot after a 40kt ride out on a slick ocean. Tried the jigs as we ascertained current direction and fish show. No bites on the jigs but outstanding show on the Lowrance.
Dropped cut bate down and put 2 or 3 scampers in the bote and got gagged hard, busting one of my snapper rigs at the knot. I had many of these bigger grouper up off the bottom but my 80# mono leaders popped. This was with 30# or so of drag to stop these fish though so it is to be expected. I was horsing a little too much with that low gear my Avets have.


Anyhow… we anchored and caught 2 more scampers and a trumpet fish. Then I continued to bust my 80# snapper leaders 2 or 3 times before getting one nice 20-25# gag to the bote and got the aggregate grouper count up to 15. Also put a nice mangrove and a couple bucket liners in the bote. Turned loose about 4 short yellowmouths.
Then, the current changed, and we drove around and found an even better show on the bottom. Motor fished it to finish the grouper limit and also get 2 more nice mangrove snappers.
Edisto-fisher bout had a heat stroke but continued to fish. Them hillbilly boys aren't used to the humidity I reckon.
We caught many grouper and lost many grouper. I used a "snapper rig" all day long tho so I do not feel so bad.
Good flash in the pan for me before I start school back and am restricted to internet fishing.
Brought home:
19 yella mouth
1 gag
(4 person grouper limit)
3 mangrove snappers
2 bucket liner snappers
1 king
1 reef donkey
Thanks, Capn. Rick!
catch of the day
Edisto-fisher
false report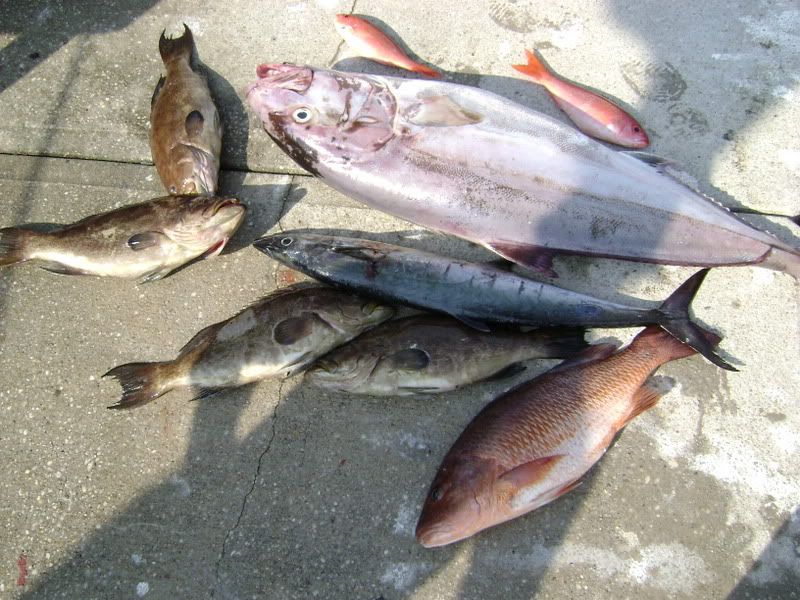 trumpetfish
[IMG]http://i80.photobucket.com/albums/j166/weadair/