dedicated or crazy? capt had to fly to Pittsburg, PA. for a meeting sat morning, said he would fly back sat night in time to fish. never doubted him for a min. plane could not land in chas last night due to heavy fog,and after three attempts was deverted to Charlotte. he hit the ground running and rented a car, drove to chas airport, picked up his truck went home loaded his gear and we departed the dock on time.
hit the jetties @ 40 kts on glass. found a mess of birds and fish schooling in 45' and dropped some jigs on what we thought might be bull reds. BAM,BAM,BAM! every rod got slammed by hudge reds on the drop and we had a ball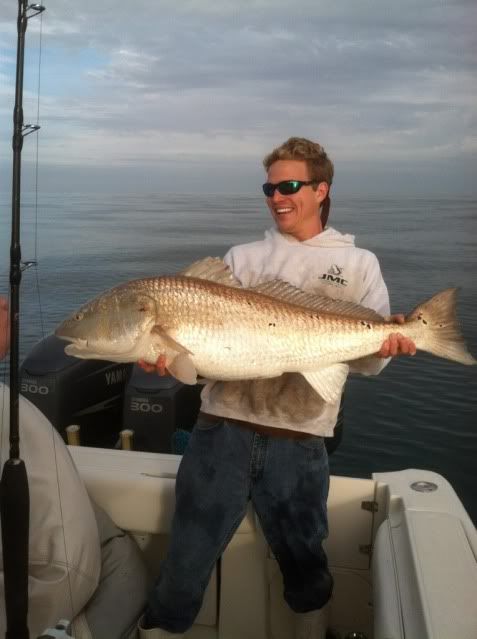 as you can see the water was awesome and stayed like that out 36mi from the rocks! everyone on the boat caught a few reds and it was time to dive. Ran way south to new #s eric found on a map in a store while working in Wilmington with names like lobster hole and grouper rocks. names like that on a map had to be checked! now eric finally has some of his own #s. water was dingy with the viz about 10/15' but the grouper were thick. current was rocking with the flood tides and all the dives were done a decent line. every drop the divers never got more than 20yds from the bouy,the bottom dwellers were thick. Realfish came across a 50lb+ grouper in a hole but wasn't sure his species and let him slide!
Treated the crew to sandwiches,wild hog applewood smoked ham, vension bologna with provolone and spinach on sourdough bread.
awesome day on the water with eric,no limit,fishcracy and craig.
If it got any better I couldn't stand it.