After 3 years of trying to learn to fish for reds (and only catching ONE), I finally took some advice I learned on this website - if you want to really learn, hire a local fishing guide. Never understood why, but the info on this site now makes sense. I learned more today than I've tried learning on my own for years - and most importantly, how to actually catch fish.
Can't thank Jeremy at 'Shallow Thoughts' enough for not only catching a bunch of fish today, but truly showing me HOW to fish. We had an absolute BLAST!!
Can't believe after all the research I've done and uncountable trips on my own, how his coaching makes all the difference. So close, but so far away, until now. Now I am REALLY hooked!!
7 Reds (below: 29" 8 lb, 6 slots, 1 puppy, 2 trout), all in super windy conditions.
Thank you so much Jeremy!!!
[URL=http://s1200.photobucket.com/albums/bb332/davel71/?action=view&current=1Reg.jpg]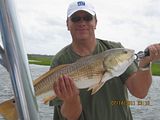 [/URL]
[URL=http://s1200.photobucket.com/albums/bb332/davel71/?action=view&current=2Red.jpg]
[/URL]